13/05/2019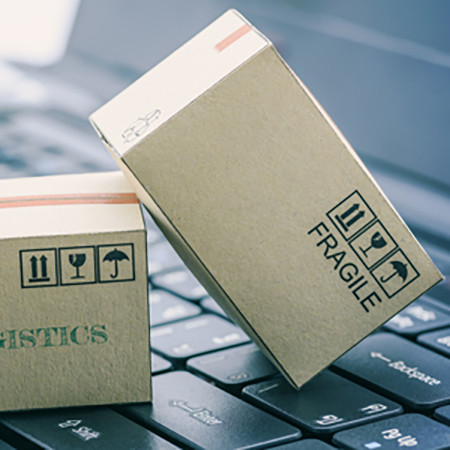 With supply chain management shifting its focus from reducing costs to driving growth and mitigating risks, the need for companies to make a digital transformation is more real than ever. With automated processes and near real-time information, companies can respond more quickly and accurately to any potential business disruptors.
You may be tired of seeing the words digital and digital transformation by now, but the need for companies to make this transformation is more real than ever. In current times of slow economic growth and Amazon challenging almost every industry's traditional business model, almost every company is looking over its shoulder for the next Google, Tesla, Netflix, Uber, or Airbnb. Companies fear becoming the next case study of a company that missed the digital transformation imperative.
The supply chain industry is no exception. The digital transformation of supply chains involves painstakingly creating the so-called digital twin concept, which models and mirrors the actual physical supply chain network. With automated processes and near real-time information, companies can say goodbye to inefficient manual processes and costly investments in unneeded assets (e.g., inventory), and respond more quickly and accurately to any potential business disruptors.
SUPPLY CHAINS: TODAY AND TOMORROW
Traditionally focused on reducing costs, supply chain management (SCM) and the associated technology are now used to drive growth and mitigate risks. This shift in focus requires a total digital transformation of SCM. Yet, this is complicated by disparate enterprise software system landscapes, global operations, large data volumes, and the uncertainty regarding data quality and integrity.
This exhibit depicts the supply chain as we know it versus that of the future. Today's supply chains involve tedious and ineffective manual data gathering and manipulation, manual collaboration, and manual "what-if" scenarios. Supply chains of the future will offer near real-time connections, digitized collaboration and scenarios, and automatic simulation capabilities. Also, traditional cadence-based planning and decision-making will give way to continuous event-driven planning and decision-making.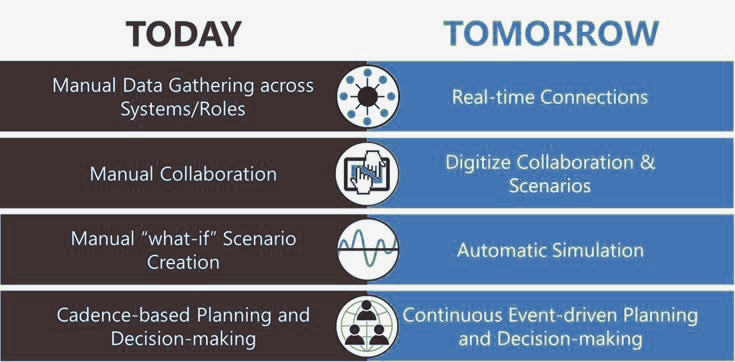 MOVING TOWARD CONTINUOUS PLANNING AND EXECUTION
Supply chain planning is moving from cadence-based periodical planning to real-time planning. Traditional monthly, quarterly, and annual sales and operations planning (S&OP) reviews will continue, but planning and execution will converge to create continuous planning. Automated algorithms are creating new possibilities. Demand, supply, and financial data can be processed in real time, whereas dynamic pricing can shape, sense, and respond to demand. Think of demand and supply sense-and-respond capabilities integrated with financial optimization.
Most supply chain decision-making will be automated to take into account massive information streams too large for humans to handle and/or recognize optimal patterns (of which many may be counterintuitive). Automated processes can also accelerate decision-making, improving customer service and reducing costs.
When decisions require human attention, advanced analytics and machine learning will evaluate trade-offs (e.g., margins, revenue, return on asset [ROA], or risk profiles) and recommend scenarios based on objectives. Humans will rarely need to determine which scenarios to run. Intelligent systems will automatically spin up the best scenarios and present them for quick comparison and decision-making by business analysts (planners).
Aside from the technological changes, how will digital supply chains impact the supply chain planning process? Companies will have to add continuous-based planning enabled through supply chain visibility and automation. Cadence-based planning sets the plan, whereas continuous-based planning is used to sense alterations to the plan, analyze potential alternatives, and respond in an optimal way.
The extent of process automation through algorithmic planning, machine learning, workflow, and events will determine whether additional human resources are required to accommodate continuous-based planning. To some extent, continuous-based planning takes place even today, but in an informal way often referred to as firefighting (rush orders and expediting) and with less than optimal results.
ENTER THE SUPPLY CHAIN CONTROL ROOM
The idea of the supply chain control room, or situation room, is to provide visibility of the supply chain, including all inventory and status of vendors, subcontractors, and logistics providers. Supply chain control towers should:
Provide holistic visibility (digital twin) of the supply chain, including access to all data required to make decisions as quickly as needed.
Operate as a closed-loop planning system, enabling humans or algorithms to execute decisions effectively. Without this setup, control towers would be mere unidirectional overlays.
A supply chain control room should allow for effective collaboration management of the entire supply chain, including:
Continuous Planning. The ability to create and compare multiple what-if scenarios to assess alternatives and trade-offs to develop the optimal plan that aligns with corporate objectives. This area should also include available-to-promise (ATP) calculations across multiple subsidiaries and a planners' workbench.
Execution. With the merging of planning and execution, visibility to distribution as well as inbound and outbound transportation is critical. Companies should also look at quality management and traceability functionality as well as better support for contract manufacturing.
Support. This area includes customer/channel-focused analysis, offerings, and collaboration.
THE FUTURE OF SCM IS THE CUSTOMER
To reach the digital supply chain ideal, companies must evolve their business processes and infrastructure to focus on their customers. This includes defining new business models, building test-and-learn capabilities, and driving process innovation rather than simply automating existing processes and practices.
Concretely, companies must build teams with deep knowledge and skills in analytics, communication, collaboration, and supply chain best practices. They should also implement a single supply chain planning (SCP) platform that integrates data from across the enterprise and can support a digital supply chain.
This starts with end-to-end visibility of the supply chain to enable operational, tactical, and strategic decisions. Once this visibility becomes table stakes, the real differentiator will be how companies use it to augment decisions, model scenarios, mitigate risk, and seek out new business opportunities. Competitive advantage will come from the degree to which the entire supply chain is aligned and synchronized, and a company's ability to use its supply chain "digital twin" to sense, plan, and optimally respond.
EMBEDDED AND PERVASIVE ANALYTICS
Pervasive, role-based, contextual, and actionable analytics will also be critical across digital supply chains. Analytics focused and aligned to enable all integrated business planning requirements across the enterprise is the Holy Grail. To cater to various users and departments, advanced analytics must be numerical and visual, and available in volumetric and financial units. Digital supply chains will use descriptive, diagnostic, predictive, prescriptive, and cognitive analytics.
Descriptive analytics examines data to tell us what happened. Descriptive technologies enable humans to view data in visual formats such as reports, hierarchies, dashboards, and scorecards. Over the last decade, the advances in descriptive analytics visualization capabilities have dramatically improved supply chain decision-making.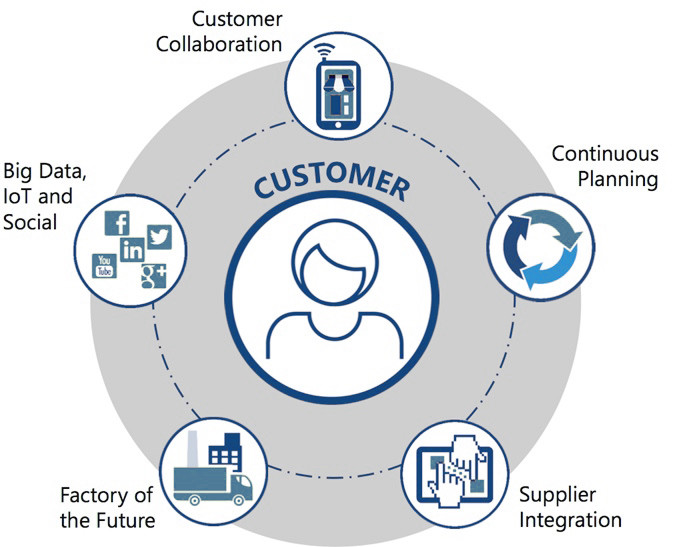 Diagnostic analytics uses what-if scenarios, root cause, segmentation, and other tools to explain why something happened.
Predictive analytics can, as its name suggests, predict what will happen. It uses historical data inputs from what-if scenarios, sensitivity curves, and similar tools used in advanced planning and scheduling (APS) software to score data with predictive models and provide recommendations for optimization and a list of exceptions for review.
Prescriptive analytics uses stochastic optimization methods and trade-offs to provide inputs based on sensor data streams and recommend actions based on a given situation. This form of analysis uses inputs like the weather, traffic congestion, and flow sensing.
Lastly, cognitive analytics involves the use of machine learning and artificial intelligence (AI) to gain new insights into the supply chain and develop automated responses or recommendations based on these insights.
Sensor technologies such as internet of things (IoT) devices and IoT software platforms drive advanced analytics' evolution.